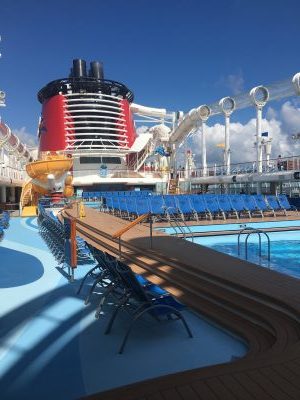 Sometimes, when we recommend Disney Cruise Line to a client who's traveling without children, they're surprised. Why would they want to be surrounded by kids on an adult vacation? they ask. Well, the fact is, DCL is so much more than just a kid-friendly cruise line. It's great food, fun for grownups, and exciting destinations. If you need to change your mind, read on. We've got five things that make Disney Cruise Line fun for grown ups too:
 Great Food. Honestly, you've heard all the jokes about cruise line food: it's bland, soggy, heavy on fat and calories and low on taste. That's not the case here. Disney's main dining rooms offer entrees to please even the toughest criticand their specialty (adult-only) restaurants like Palo and Remy offer world class cuisine. Even poolside treats and the all-day buffet are beyond what you will find on any other cruise line.
A private adult beach. You've probably heard that Disney has its own island, Castaway Cay, where you'll dock and spend the day, but you may not know that Castaway Cay has an adult beach where you can hang out, have a cold beverage and while away the day. And while you're at it, make sure you check out the dining options too. That great steak? It's included, just like your meals on the ship.
Great nighttime entertainment. Yes, Disney has world class shows. I mean, you'd expect that from Disney. But did you also know that Disney has comedy clubs and great lounges? There are sports bars where you can watch your favorite team, even a champagne bar and dancing.
Adult pool areas.  Disney's adult pool area has a convenient bar nearby, a coffe bar (free pastries!), comfy lounge chairs, and a hot tub. If you feel like a massage, there's a spa just a few steps away. And if you grow tired of your lounge chair, there's a gym nearby where you can exercise with a few of the ocean. That's a workout you'll really enjoy!
Disney's classic-looking ships impress with a look you won't find anywhere else. For those who want Mickey, he's there. But for those who love a more grown-up, elegant look, you'll be hard pressed to find a more gorgeous ship.
I've done several cruises without the kids (don't worry, mom paid extra for WiFi) and I've loved every one of them. It's a great 3-day getaway for moms, a wonderful couple's trip, or really, whatever you want it to be. Don't miss out on DCL just because you think it's for kids–it's great for adults too. In fact, after writing this I think I need to go book another cruise.